HEA Eight Miraculous Nights
HEA Eight Miraculous Nights will connect the synagogue together during a time of social distancing with many opportunities to celebrate the holiday of Hanukkah. Each night of Hanukkah, we will have a different activity or program focused on either a specific demographic or a community-wide activity. Prior to the event itself, we will light the Hanukkah candles. We will choose a different HEA family to light the candles with Cantor Green. The details for each night are listed below.
Thursday, December 10, 6:30 p.m. (grade school-focused)
Night 1: The Great Dreidel Spin-Off
Every Jewish boy and girl is certain that they spin the dreidel best. Let's see your skills, tricks and tips. Join us for a short Hanukkah kick off complete with candle lighting and dreidel fun. This evening will be enjoyed by kids of all ages, but mostly those in grades K-5.

Friday, December 11, 6:00 p.m. (community-focused)
Night 2: Azamra Hanukkah
A special Friday night Azamra service for Hanukkah led by Cantor Green and special guest, Shira Teed. We will have candles lit ahead of time for Shabbat.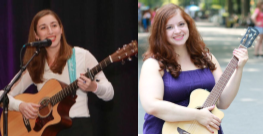 Saturday, December 12, 7:00 p.m. (community-focused)
Night 3: Hanukkah Concert Experience with Eliana Light and Cantor Arielle Green
Cantor Green will lead this family-friendly but not family-focused concert with
accomplished singer/songwriter Eliana Light. Eliana's performances mix Jewish education about God with music. Together with Cantor Green, they will create an event focused on bringing light and God into this Hanukkah season.
Sunday, December 13, 6:30 p.m. (adult-focused)
Night 4: Hanukkah Virtual Game Night
We have partnered with www.virtualgamenight.live who will provide a hosted virtual game night experience complete with comedian host, Ollie Robinson.
Monday, December 14, 6:30 p.m. (family-focused)
Night 5: Menorah Competition
Families are tasked with building a menorah. On this night on Zoom, registered entries will have 30 seconds to explain their creation, and the clergy will use 1-10 score cards to judge their creations. The winner will get a prize.
Tuesday, December 15, 6:30 p.m. (adult-focused)
Night 6: Part 3 of Rabbi Dollin's class, Making Light in a Dark Time
Using Jewish wisdom, Rabbi Dollin will discuss what Judaism has to say about this time of tribulation and what we can do to bring light to our lives.
Wednesday, December 16, 6:30 p.m. (family-focused)
Night 7: Hanukkah Story Time with Sylvia Rouss
Famed author Sylvia Rouss of the Sammy the Spider series will host a story time and Q & A session. Sylvia will be reading two Hanukkah books: Sammy Spider's First Hanukkah and The Hanukkah Fable of Little Dreidel and Silver Menorah.
Thursday, December 17, 6:30 p.m. (adult-focused)
Night 8: Community L'Chaim and Candle Lighting
Led by Rabbi Dollin and Cantor Green who will lead us in the candle lighting and a community L'Chaim!
Sun, April 11 2021 29 Nisan 5781