Rabbi Dollin's Antisemitism Class
Join Rabbi Dollin for a four-part adult education series on the Deborah E. Lipstadt book Antisemitism, Here and Now on Sundays, November 3,10,17 and December 8 at 10:00-11:00 a.m. Click HERE to register.
Grab a complimentary mimosa, and come find gifts for all ages at the HEA Hanukkah gift market. We are hosting over a dozen vendors for this intimate holiday market. Check in to this page often as we will be showcasing the art work, jewelry, handcrafted goods and gifts that will be featured.​​​​​​​
Join the Alliance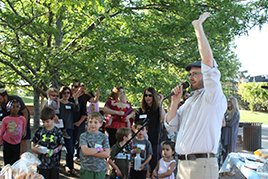 The Hebrew Educational Alliance is an egalitarian, conservative Jewish congregation located in southeast Denver, Colorado. With a vision to "Inspire Lives of Meaning," we strive to maintain a camaraderie amongst our congregants who are vibrant, committed, and curious. Representing Jewish life in Denver for over 91 years, we seek to provide our members with opportunities for Jewish study, prayer, culture, and social action in the continued building and preservation of our community. We hope you'll join us at the HEA!
For more information, please feel free to contact our Executive Director, Neal Price, at nprice@HEAdenver.org or call us at 303-758-9400. Click HERE to access our online membership form, read our FAQs, and learn about our membership categories.
Mon, November 18 2019 20 Cheshvan 5780